Japanese Eggplant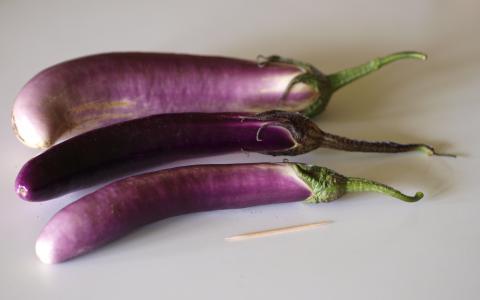 Image credit:
F. D. Richards
Harvest
Jun 1

to

Aug 31
Nov 1

to

Dec 31
Find at Farms and Ranches
We are a family farm that produces certified organic vegetables year round.
We are a family owned/operated certified organic farm location in Casa Grande, AZ.
On The Vine, LLC is a small home-based farm just outside of Casa Grande, Arizona. We have an 1,800 sq. ft green house and approximately 16,000 sq.
Find at Markets
This is a year-round open air market offering produce, eggs, grass-fed beef, apple butter, tomatoes, honey, tamales, hummus, gourmet dog treats and
Hours
Tuesdays, 9:00 a.m. - 3:00 p.m.
A natural gathering place that celebrates neighborhoods and neighbors.
Hours
Saturdays, 8:00 a.m. - Noon (May - September), Saturdays, 8:00 a.m. - 1:00 p.m. (October - April)
Local farm produce including fresh vegetables & fruit, baked goods, honey, jams and jellies, nursery stock, natural pork, beef and fish, hand c
Hours
Saturdays, 7:00 a.m. - 11:00 a.m. (June - September), Saturdays, 8:00 a.m. - 1:00 p.m. (October - May)